11 Dimensions of the "Medical Simulations Space". Part 2.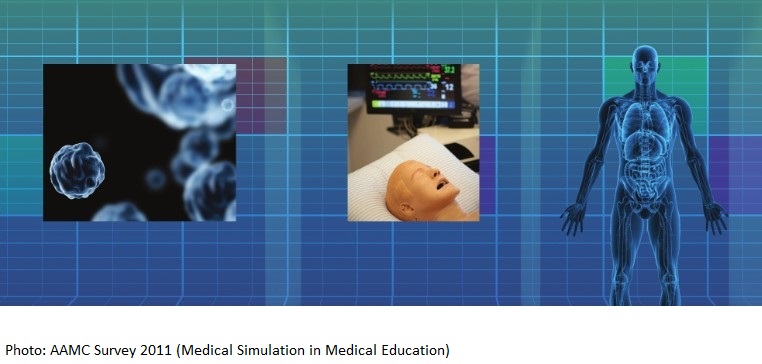 As we have promised in the previous article, we continue to investigate other dimensions of medical simulations. Exploring the medical simulations space will provide you with the necessary knowledge and will significantly simplify your medical training and practice.
Dimension 6: The type of knowledge, skill or behavior addressed in the simulation.
As we have mentioned before, medical simulation applications can be used at different professional levels. As we have mentioned before, they are applicable for acquiring conceptual knowledge at the beginning of medical education. Afterward, this knowledge should be accompanied by the basic techniques. Now it becomes vital, to integrate into clinical techniques with the help of medical simulation applications. When knowledge and skills have already been gained, decision-making skills have to be accompanied by the everlasting training to increase the level of professionalism. Here simulation applications can be used to refresh skills or to improve the team's response to challenging events.
Dimension 7: The age of the patient being simulated. 
Since the simulations nowadays apply to every type and age of a patient, the need in fully interactive pediatric simulators is increasing. Usually, in medical simulations, the models of adult female or adult male are used. But with the help of virtual reality techniques, the simulated pediatric clinical activities will soon become available.
Dimension 8: The technology required for simulation.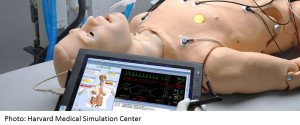 According to the type of technology needed for simulation, there are the following types of applications. In actual physical reality, "mannequin-based simulations" are the most common. When a computer is enough for conducting the simulation, it is called "screen-based simulation." When two or three-dimensional video or audio representations are used for medical simulations, they are called   "virtual reality simulators."
Dimension 9: The place of simulation participation.
Conducting a medical simulation which requires a computer, video or the Web is possible at the learner's home or office. For more advanced screen based simulations more powerful computer facilities may be needed and they can be available in the medical libraries. The virtual reality simulators or part-task trainers are usually implemented in dedicated skills laboratories. More complex clinical tasks should be simulated in specialized medical simulation centers.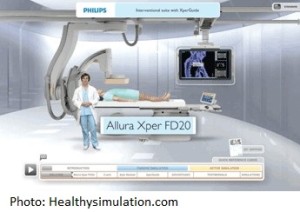 Dimension 10: The extent of direct participation in the simulation. 
Not all medical simulations require direct involvement. For instance, it is also possible to learn medicine by viewing simulations involving others. With the help of video conferencing, it is also possible to conduct a remote simulation in real time.
Dimension 11: The feedback method is accompanying simulation.
The screen or VR-based simulators can provide feedback by themselves if this option is available in the software. But the most commonly used method to give feedback for the simulation activity is post-simulation debriefing session when a human instructor makes the summary which is based on audio or video records of simulation.
So as you can see, medical simulation applications can be highly applicable in various settings and levels in the healthcare system. They become vital and useful educational and training tools if they are adequately and fully integrated into the routine health care process. People can gain a lot of benefits from using medical simulation applications for learning, improving skills, deepening knowledge and developing experience in the sphere of medicine.